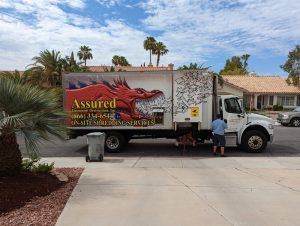 Document shredding is essential to protecting organizations from identity theft and other forms of fraud. It's no surprise that on-site shredding services are becoming more common across Phoenix, as these services offer businesses a secure and convenient way to destroy sensitive documents. In addition to protecting confidential information, on-site shredding is becoming popular for organizations of all sizes because it can help save time and reduce costs. Please read along as we discuss why on-site shredding is becoming increasingly popular and the benefits of using a professional document destruction company.
What is On-site Shredding?
On-site shredding securely destroys confidential documents at their point of origin, often through mobile shredding trucks. This service guarantees that all sensitive data is destroyed before it leaves your premises and that no information can be recovered from the shredded material. On-site shredding services are more secure than off-site options as they prevent potential misplacement or pilfering during transport to an outside facility, offering businesses and organizations peace of mind about document disposal practices.
Benefits Of On-Site Shredding
There are several advantages to opting for on-site shredding services over other methods, including convenience, cost-effectiveness, security, and assurance. By choosing on-site services, you eliminate the need for off-site storage or disposal fees, as all documents are destroyed at your desired location. You also have the added assurance of witnessing the destruction process and can be confident that applicable laws and regulations securely destroy your confidential information. Shredding companies like Assured Document Destruction also offer peace of mind in the form of a Certificate of Destruction that can be provided upon completion.
What Can Assured Document Destruction Offer?
Assured Document Destruction is a trusted provider of secure document destruction services. We provide on-site shredding, full-service shredding, one-time shredding, scheduled shredding, and hard drive destruction services to businesses across the community. Our experienced mobile security specialists will come directly to your premises and ensure that all documents are safely destroyed in accordance with national standards. We are NAID AAA Certified,  meaning we meet the highest industry standards for document destruction and data security.
As you can see, on-site shredding services offer a secure, cost-effective and reliable solution for destroying confidential documents. Assured Document Destruction provides these services with the highest standards of data security and compliance in mind, ensuring that all information is destroyed safely and securely. For those looking for more peace of mind about their document disposal practices, on-site shredding may be the answer.
Assured Document Destruction: Secure Shredding Throughout Phoenix
Assured Document Destruction provides secure shredding services to businesses and organizations throughout Phoenix. Our team of mobile security specialists can come directly to your location and ensure all documents are destroyed following applicable laws and regulations. We offer various options, including one-time shredding, scheduled shredding, full-service shredding, and hard drive destruction. Contact us today to learn more about our on-site document destruction services.