Protecting Your Information
* Required Field
We never sell or share your information.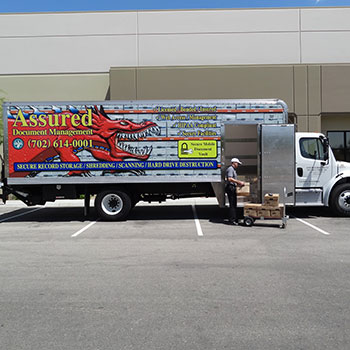 Secure Off-Site Shredding
Secure & Convenient Shredding Services in Phoenix
Located in the heart of Phoenix, AZ, Assured Document Destruction is a trusted name when it comes to secure, off-site shredding services. We provide an indispensable service for businesses and individuals alike who require reliable and confidential document disposal.
Our off-site shredding service is not only safe but also extremely convenient. You don't have to worry about the logistics; we take care of everything from collection to destruction, ensuring a seamless process. We transport your sensitive documents to our secure facility where they are professionally shredded using state-of-the-art equipment.
What sets us apart is our commitment to customer service. Our experienced team of professionals is always ready to assist with your queries or concerns. They guide you through every step of the process, ensuring you understand how your documents will be securely destroyed. At Assured Document Destruction, we understand the importance of privacy and confidentiality in today's digital age. That's why we go above and beyond to ensure your documents are thoroughly destroyed, protecting your personal or business information from falling into the wrong hands.
Off-Site Shredding: The Process

The first step involves collecting the documents that need to be shredded. In the off-site shredding process, secure, locked bins containing confidential data and documents are collected from your location by out trained professionals.
Once the documents have been collected, they are securely transported to a plant-based shredding facility. This transportation process is carried out with utmost care to ensure the documents remain secure and confidential.
At our secure shredding facility, the documents are processed and destroyed to an unrecoverable state. This ensures that your sensitive information remains confidential and is properly disposed of. You will receive a certificate of destruction once the destruction process has been completed.
When Might You Use an Off-Site Shredding Service?
Off-site shredding services can be used in a variety of scenarios, including but not limited to:
Bulk Shredding: If you have a large volume of documents that need to be destroyed, off-site shredding is an efficient and cost-effective solution. The service provider can handle large quantities of paper at once, making it a convenient option.
Scheduled Shredding: For businesses that regularly generate sensitive documents, setting up a scheduled off-site shredding service can ensure that these documents are securely disposed of regularly.
Data Protection Compliance: Businesses that deal with sensitive customer data, such as financial or medical records, often use off-site shredding services to stay compliant with data protection laws like HIPAA or GDPR.
Office Moves or Cleanouts: If your business is relocating or undergoing a major cleanout, off-site shredding services can efficiently dispose of unwanted documents.
End-of-Year Purge: Many businesses find they have an excess of outdated files at the end of a fiscal year. An off-site shredding service can securely and conveniently handle this surge in volume.
Secure Destruction of Digital Media: Some off-site shredding companies also handle the destruction of digital media, such as CDs, DVDs, hard drives, and more. This can be crucial for businesses needing to dispose of outdated, confidential digital information.
Assured Document Destruction, Phoenix: Why Choose Us?
Cross-cut shredding performed off-site at our secure shredding facility.
Our shredding services protect your reputation and prevent identity theft and fraud.
We are fully licensed, bonded, and insured.
In accordance with environmental policies and privacy laws, all materials are recycled or shredded. 
Our Shredding Specialists are background-checked, uniformed, and cleared to handle your documents.
After each shredding service, customers will receive a Certificate of Destruction. 

We at Assured Document Destruction are NAID AAA Certified, which means our security procedures and standards are in line with NAID's strict guidelines. Partnering with a Certified shredding provider will ensure the highest level of security and privacy for your organization. 
Complete Shredding Services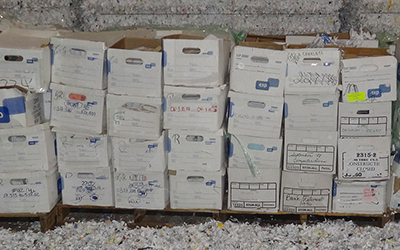 Assured Document Destruction specializes in secure shredding services. Whether it's on an on-going, regular basis for your office or a one-time bulk clean-out of storage documents.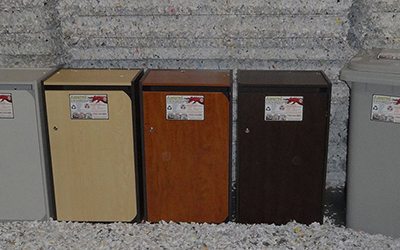 All materials are shred at your location into small particles by one of our on-site security specialists, returned to our secure facility, then compressed into 1,500 lb bales.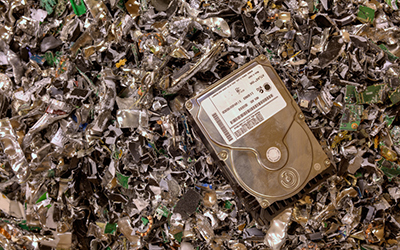 Assured Document Destruction has specialized expertise in hard drive destruction, computer disposal and electronic media destruction. We are certified for on-site mobile…
Partnering with Our Customers
The reCAPTCHA verification period has expired. Please reload the page.